Disclosure: This shop has been compensated by Collective Bias, Inc. and its advertiser. All opinions are mine alone. #ThinkOutsideTheWipe #CollectiveBias
If you tell me that every trip to the park or playground with your kids is a breeze, I'm going to have to call your bluff. That would mean that no one ever gets mad when it's time to leave, no one ever gets a bump, bruise, or scrape, and everything is just easy peasy. I just don't believe it! For me, I have the personal struggle of having to watch twin toddlers occasionally run in opposite directions. On top of that, they're climbers, love puddle jumping, are curious about mud, and are hungry every 2.5 seconds.  As I'm sure you all know, the list can go on.
So, what do I do to make park days as smooth as possible? Well, quite a few things! I'll cut to the chase, in case your little one is trying to drag you out the door as you're reading this. The first tip is vital, so let's get to it!
1. Prepare, prepare, PREPARE for a Mess!
Oh, did I mention, prepare? First and foremost, I've learned a lesson to always bring our favorite wipes, Huggies® One & Done®. No, not because someone might poop. More like, someone might try to pick up poop! Or trash, or go "fishing" in a puddle for rocks, or straight up DIG A HOLE with his hands. And then, of course, ask for a snack. So, the ability to clean those little mitts anywhere, anytime is necessary for us! Let's not even get into mud on the face, chalk drawn onto your brother's skin, and so on.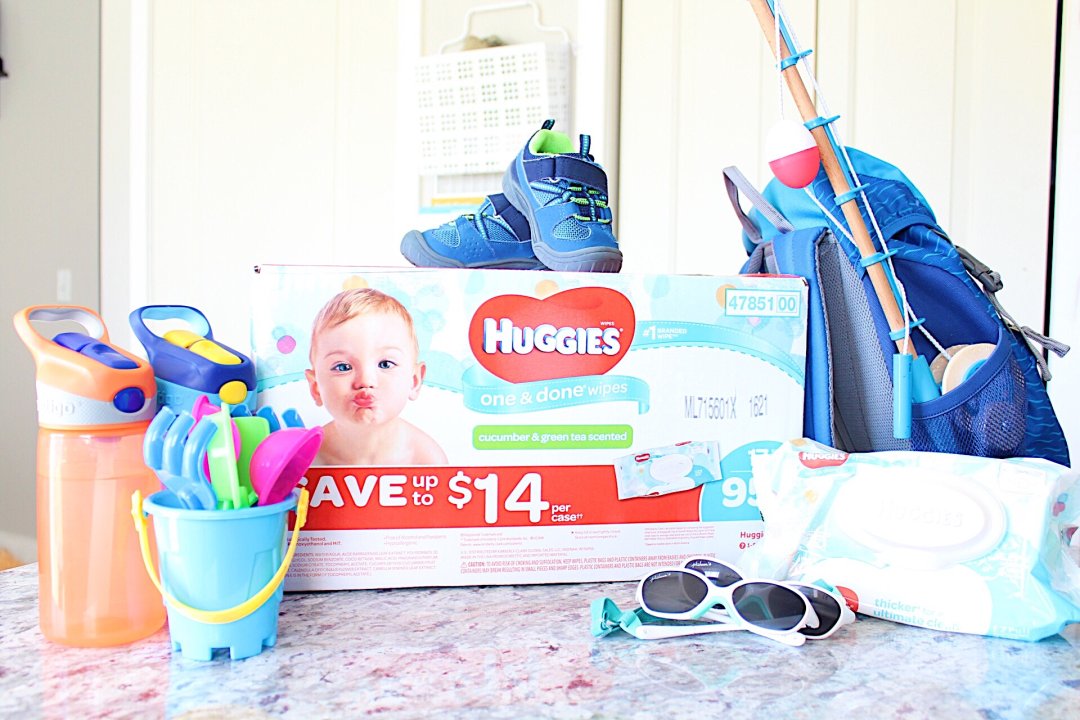 Whatever the case may be, Huggies One & Done (#1 branded wipe!) has had us covered since the boys were born. From wiping them down, to wiping down park benches for snacks or activities, I can clean up with confidence. The patented Triple Clean Layer makes them thick, while the EZ Pull® Dispensing makes them easy to pull out. Let's not forget that they're hypoallergenic, alcohol free, and paraben free, leaving ME guilt free! Oh, and icing on the cake: Huggies One & Done smell like cucumber and green tea. Woohoo! Personally, I pick mine up at Sam's Club. To me, the value of the wipes, as well as SO many other items, is unbeatable. If you're a member, you'll save at least $14 by purchasing yours there too! To learn more about my favorite wipes, you can hover over the photo above and click the link (and get free shipping)!
2. Have Bathroom Plans!
Maybe your kids are like mine, and still in diapers. In this situation, a simple diaper change prior to leaving, as well as bringing along a diaper bag, will work just fine. If your kids use the toilet though, make sure to have everyone do their business before you leave. Bathrooms aren't always available at playgrounds, parks, etc., so emptying the tank is vital. Also, YOU might get the urge too, so do your best to make sure that doesn't happen. How mad will everyone be if you all have to head home, just so you can pee? Come on, mom!
3. Time it Right…Do NOT Go During Naptime.
So, it's naptime. I pick out a fancy park with a cool playground about 30 minutes away. My thought: they'll nap in the car, they ALWAYS do! What actually happens though? NO ONE NAPS. We get to the amazing park and everyone is so mad because they want to play, but they also want to lay down under a tree and sleep (including me). In conclusion, everyone ends up miserable and you went to the park for nothing. Don't let it happen to you, okay?
4. Try for Age Appropriate Playgrounds
Where we live, most parks are playgrounds, or contain little playgrounds. I try to look for ones that have the play sets that are lower, with smaller slides, and are manageable for toddlers. I also look for baby swings, because although they love them, my guys can't swing on their own yet. Just something to keep in mind, as all playgrounds are not created equal!
5. Bring Snacks
For goodness sake. Have snacks and water, or some sort of drink. We've taken short trips to the park close to our house and within 5 minutes of being there, the twins have wanted a snack. Maybe it's the hot midwest weather, or maybe it's that kids have a metabolism 100 times faster than mine (can mine speed up sometime soon, please?). Regardless, snacks fix problems 99% of the time. I promise. Oh, and don't forget snacks and water for YOU, as well. Or coffee, because, #momlife.
6. Have Weather Appropriate Gear & a Plan for Cover!
I can't really be specific here, because it will vary day-to-day for most of us. During the summer, I always bring their shades, sunscreen, and hats. I also try to dress them appropriately before even leaving the house. T-shirts and shorts have been doing the trick, while we'll switch to pants and a hoodie in the fall. I think of it this way, if I were doing an obstacle course over and over (which is basically what they're doing), wouldn't I want to be comfortable? On top of dressing, if the whether is a little "iffy" I choose a park with a little cover, just in case it rains OR we need shade from sun!
7. Have a Few "Outdoor" Toys
Sometimes you're kids will come across a little sand pit, or dirt pile. Yup dirt. If I bring our little sets of buckets and shovels, the boys are thrilled! Not to mention, something like this can keep them in one place for at least a few minutes, or even prevent a melt down by providing a change of pace (insert praise hands here).
8. Get Down and Dirty with Your Kids!
If we're friends in real life, you know that out of the entire family, I'm the most likely to end up filthy, bleeding, or missing a shoe (or glasses, or an item of clothing, you name it). Why? Because I'm uncoordinated, forgetful, and unlucky always down to have fun. Sometimes you just have to embrace the mess (and remember you have your Huggies One & Done wipes, just in case!) and play the playground games, build the sand castles, #doallthethings. I don't mind situations where the entire family needs to dig into the wipes before we head home! Life is short, those kids are probably already growing too fast, so what's a little mess in the long run?
In Conclusion…
To sum things up, plan for your trip by planning to resolve any disasters. That's the easiest way I can put it, so that you'll be prepared. If you're prepared for anything, then once you make it to the park, everyone can let loose and have fun! Obviously, different weather, park attributes, and ages will dictate specific items that you bring, so always consider those factors as well. If you have any extra tips to add, please post them in the comments!
Oh, and don't forget to bring along your handy dandy package of Huggies One & Done wipes, all of you Sam's Club members! It's my favorite place to shop for regularly used baby items, because we run through them so fast! Peep the photo below to see where they're located within the club.