This shop has been compensated by CollectiveBias, Inc. on behalf of its advertiser, ZonePerfect. #MyLittleWins #CollectiveBias
To all of my parents and busy bees out there, am I right when I say that we have to savor our Little Wins™ throughout the day? Maybe before becoming a mom or dad, you were able to sip your morning coffee in peace. Maybe you were able to get your workout in whenever you wanted. MAYBE you even got to shower on a regular basis. But then, life hit you SMACK in the face. That coffee became a luxury, your workout time became a feeding time, and that shower? What shower? Anyone feel me? Portions of our daily routines have turned into Little Wins™, and personally, I absolutely need those victories!
A year and a half into this whole parenting gig, I've learned that sometimes we need to create our own Little Wins™ to appreciate the good stuff. For me, I try to ensure myself some sort of workout, at least 5 days a week. If I accomplish this, then I can feel somewhat victorious about my day. If you don't know my history in athletics, let's make a long story short: I was a competitive weightlifter who spent 2-3 hours per day in the gym, and nowadays, I only have maybe 1 hour to spare.
Some have asked how I ensure myself a daily workout, when time is hard to come by. Well, I'm about to hit you with a tutorial on how to make time for exercise! You can use all of these steps, or just the ones that work for you. Either way, if I can do it, so can you! Here we go!
1. Wake up early, or evaluate your current daily routine.
"I don't have time to workout," said a billion people. What that means sometimes, is that you haven't honestly tried to make time. To fit a workout in, sometimes it will mean waking up 20 minutes early. Other times it will mean using nap time to work on your fitness, or cutting your lunch break a few minutes short. Let's face it, if you have time to binge watch a series, then you can surely make time to exercise. Even if you are doing 5 rounds of 10 air squats, 10 push ups, and 10 sit ups during a break at work, you're still doing something! Little Wins™, remember?!
2. Fuel that body of yours!
How in the world can you workout, if you're not properly fueled? From experience, if you attempt a workout (let alone try and function) without having eaten enough, you'll feel lethargic and dehydrated (and more likely to skip it)! These days, I like to keep easy, smart snack options on hand (and plenty of water!). In my house, you can always find fresh fruits, lean meats, or a box of ZonePerfect® Chocolate Chip Cookie Dough, 5ct. bars. ZonePerfect® bars are easy for me, because whether I'm at home, or on the go, I can get a little protein in. That means I'm fueled to chase babies AND lift barbells. Um, if we're close friends, you know that I'm kind of obsessive about eating enough protein (insert super awkward smile).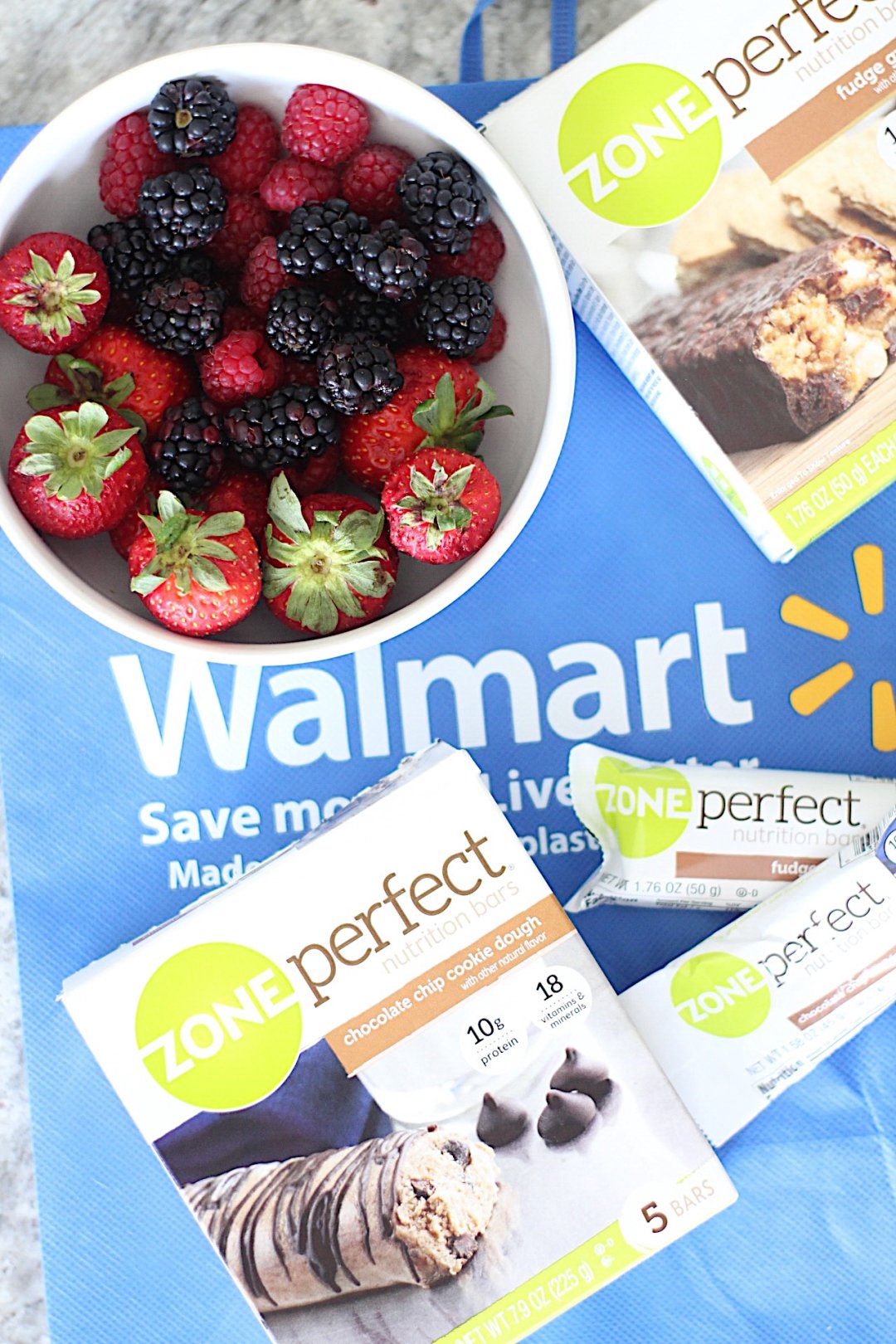 Oh yeah, I also don't get hangry. Have you seen me hangry? If you do, please hand me a ZonePerfect® bar, thanks in advance. It's also worth mentioning that if you choose a smart snack AND get your workout in, then that's TWO Little Wins™ for your day! You're welcome! If you're interested in finding out more about ZonePerfect® bars, hover over the photo above! You can also click here for a $1.00 Ibotta deal.
3. Find a workout that you ENJOY.
Let's be real for a second. As people, we don't like doing things that we don't enjoy. Find a workout that you honestly enjoy and will look forward to. Maybe you consider weightlifting one of the loves of your life (I do!), or maybe you crave the feeling of hitting the pavement. If you don't know what you enjoy yet, give a few different classes a try, or even ask friends what they enjoy. I'll warn you though, sometimes you have to try one type of workout multiple times until you make a decision. It's also worth mentioning that there are also plenty of at-home routines you can push through!
Tip: For my mamas, if there was something you enjoyed before having kids, it will take you a minute to get back to it. Let me tell you though, you will find a way to still fit in a workout you love. Although I can't commit the same amount of time to compete in weightlifting, I still get to do it at my home, or at a gym, and even participate in fitness classes that incorporate my lifts!
4. Include a friend, or at least tell them.
Accountability is real. If you tell someone close that you're going to do something, then you're more likely to adhere to your word. If you're relationship is strong, that person might even call you out if you don't follow through. The cool thing about telling a friend is that they might also join you! Double the fun, right? My husband and I discuss our workouts almost everyday, and on weekends, we try to at least do one workout together. I also have a friend who I consider a long distance gym pal, and we often discuss how our workouts are going. If I don't feel like going to the gym, she'll push me to go!
Bonus: If you have a friend who wants to actually hit the gym with you, then you get to hang with someone you enjoy! Believe it or not, exercise CAN be fun!
5. Make it a routine!
Once you have decided what kind of workouts you like and maybe a time of day to do them, now it's time to make them a routine. In other words, create a new healthy habit for yourself. Just like making a routine of smart snack choices grows easier with time, so will your routine. Maybe you've started waking up earlier or shortening your lunch break to fit a workout in. It may be tough at first, especially if you're trying to squeeze it into a tight schedule, but just stick with it for a few weeks. Eventually, it will feel strange NOT to work out. While you're at it though, try and see if those few weeks give you a little health and confidence boost (I bet it will!).
6. Remember your reason why.
If you find yourself feeling down and losing motivation to workout, remember the reason WHY you're doing it in the first place. Maybe you want to lose weight, maintain general health, meet a goal, or set a good example for your loved ones. Once you remember your reason why, your motivation will come back, and making time will feel like a priority again. For me, I want to set an example of physical, mental, and emotional strength for my family. I want health to be a priority for them, as well as characteristics like determination and grit. If I'm feeling too lazy to hit the weights, I think of them, and then I'm out the door!
What are your Little Wins?
Now that you've heard about my Little Win, what's yours? Are you trying to fit in a workout and make healthier choices as well? Are you trying to read for 20 minutes per day, or follow through with a self-care routine? If so, I'd love to hear about it in the comments! While you're thinking about it, don't forget to check out ZonePerfect® Nutrition Bars at your nearest Walmart location. Click here for a $1.00 Ibotta deal as well! If you don't have Ibotta, just give it a quick download to get your deal! You can also enter the #MyLittleWinsSweepstakes for a chance to win a $1,000 Walmart e-gift card, or be one of 5 to win a $300 e-gift card! Good luck!
#MyLittleWinsSweepstakes (8/4 to 9/12)